Stackable Incubator Shaker
70 L capacity constant temperature incubator with one built-in shaker is designed for table-top use for double-deck stacking. With built-in shaker, this incubator is widely used for suspension cell culture in microbiology, molecular biology. Tacking incubator is easy to install and save your lab space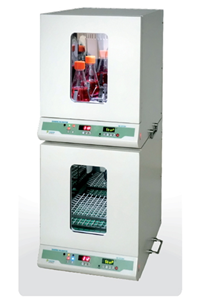 Portable Mini CO2 Incubator
Light weight, easy to carry incubator with 15.2 L chamber. Compact design at economic price with digital set-up for temperature & CO2. Quick recovery & precise CO2 control by IR sensor.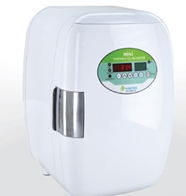 CO2 Incubators
These incubators are ideal for experiments involving cultivation of animal cells, sperm/ ovum, anaerobic cells, all types of microbe cells, hatching/ germinating and special tissues.
CO2 Incubator with built-in Roller or Shaker
Roller apparatus or Shaker is mountable on the bottom of chambers. Adherent and suspension cell culture are simultaneously conducted at an incubator. All operation for built-in apparatus is controlled at external control panel.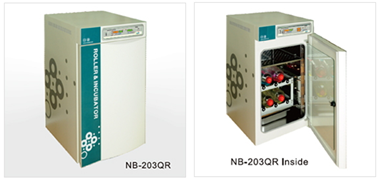 CO2 Shaking Incubator ANICELL
The Anicell shaking CO2 incubator is ideal for use in the fields of bio similar production, proteomics, crystallography, genomics, cell biology and new drug development. A large capacity CO2 with removable long life shakers provides the optimum solution for cell culture in suspension.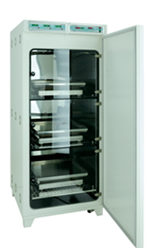 CO2 Shaking Incubator with 2 built-in Shaker
The NB-206CL is small economical version of the Anicell. This 179-Liter Direct Heat CO2 incubator is equipped with two built-in detachable mini shakers on two shelves. This is ideal for small of suspension cell culture. It is also available to be used as a typical CO2 incubator if the shakers are taken out from the shelves.
General Incubator
It is useful to incubate or germinate for all kind of microbes, cells, bacteria and germs. Microprocessor controller set for temperature accuracy and reproducibility. Especially, NB-201C makes it possible to cultivate cells under ambient temperature by Peltier element.
General Incubator with built-in Roller or Shaker
NB-205QR is the general incubator with built-in Roller Apparatus

NB-205Q is the incubator with built-in shaker
Hybridization Incubator
Designed to provide only Hybridization or with Rocking in one incubator. Fast Heat-Up and Precise Temperature Control helps efficient mixture, Hybridization, Incubation.
Large Benchtop Shaking Incubator
With precise temperature control, this is used for thermophile culture, the experiment of ferment catalyst, microbe/plant cell culture and extraction.
Mini Shaking Incubator
This compact-size shanking has a powerful shaker and large work space for various vessel platforms. With the benefit of a small footprint, it allows for stable shaking and precise temperature control.
Refrigerated Incubator with built-in Shaker
These incubators have a built-in shaker for suspension cell culture as well as shelves for adherent cell culture. An optimized cooling function provides a wide range of temperatures.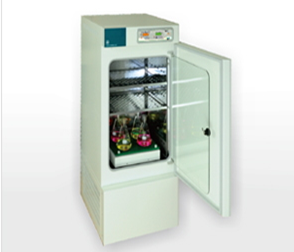 Refrigerated Shaking Incubator (vertical type)
This vertical shaking incubator allows the user easy access to the sample and a large temperature range for various cell cultures