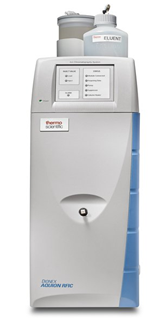 Dionex Aquion Reagent- Free Ion Chromatography (RFIC) System
Dionex Aquion Reagent- Free Ion Chromatography (RFIC) System
Increase productivity and achieve confidence in your results with the Thermo Scientific™ Dionex™ Aquion™ RFIC system. This ion chromatography system is a simple, compact platform with eluent generation capabilities for budget-limited laboratories and features a dual-piston pump, electrolytic suppression, eluent generation, high sensitivity, and set-and-forget convenience. Eluent generation provides precise eluent concentration delivery that is programmed with the click of a mouse for unprecedented simplicity and error-free operation. This RFIC system is designed for ease-of-use, fast startup times, and reliable, stable performance for demanding applications in the environmental, food safety, and academic laboratories.
System standard features include:
Dual-piston pump
Eluent generation
Thermostatted digital conductivity cell
Electrolytic suppression
LED status panel
Standard bore and microbore column support
Available features include:
Column heater
In-line vacuum degas
Thermo Scientific™ Dionex™ Chromeleon™ Chromatography Data System (CDS) software
Dionex Integrion
Meet your routine ion analysis demands using the easy-to-use and reliable Thermo Scientific™ Dionex™ Integrion™ HPIC™ system. This system performs versatile and efficient analyses through comprehensive application solutions and interactive wellness features. The Dionex Integrion system's flexible detector configurations meet your analysis needs for today and tomorrow. Its high-pressure capabilities enable faster analysis without compromising data quality. Use the system's automated eluent generation (EG) to eliminate error-prone manual eluent preparation and achieve better method reproducibility.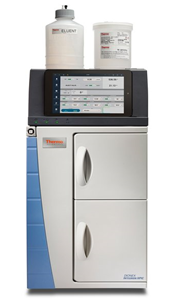 Dionex Integrion
Dionex ICS-6000 Hybrid HPIC System
Dionex ICS-6000 Hybrid HPIC System
Get best-in-class resolution, sensitivity, and throughput for even the most complex ICxIC (2D-IC) methods and trace level analyses. The versatile Thermo Scientific™ Dionex™ ICS-6000 Hybrid HPIC™ Systems provide faster separations without compromising resolution, thanks to its dual high-pressure channels. One channel is optimized for capillary flow rates, while the other is optimized for standard (4mm) or microbore (2mm) mode. You'll save time and improve reproducibility with precise, automatic eluent generation and sample preparation. Choose from a wide variety of chemistries, detectors, and automation options to fit your needs.
Choose from three dual-channel configurations
Dionex ICS-6000 RFIC Standard Bore-Capillary System
Dionex ICS-6000 RFIC Microbore-Capillary HPIC System
Dionex ICS-6000 BioIC ED Capillary-Microbore HPIC System for carbohydrates (capillary) and AAA-Direct (microbore) applications
Dionex ICS-4000 Integrated Capillary HPIC System
Perform high-resolution ion chromatography quickly with the Thermo Scientific™ Dionex™ ICS-4000 Capillary HPIC™ System, which delivers both ease-of use and high-end performance with multiple detector choices to support a wide variety of applications.The system's high-purity, electrolytically generated eluent and Dionex™ IC Capillary Cube™ cartridge consumables ensure exceptional control and reproducibility for both isocratic and gradient separations as well as months of continuous operation with minimal eluent use and waste.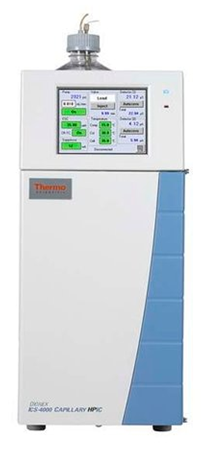 Dionex ICS-4000 Integrated Capillary HPIC System