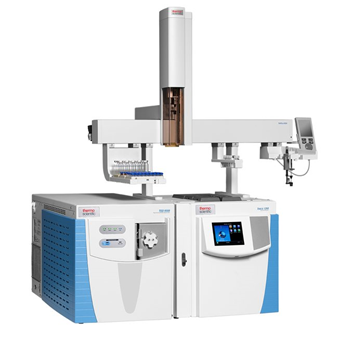 Triple Quadrupole GC-MS/MS System coupled with Triplus RSH
Thermo Scientific TM TSQ TM 9000 Triple Quadrupole GC-MS/MS system delivers high sensitivity for more routine analysis. Minimize maintenance intervaks with routine-grade robustness. Operate with technology, flexible method development and powerful reporting tools designed for optimal productivity. Achieve quality results on tine, every time with easy-to-use routine workflows. Fully upgrade from base to advanced configurations to boost flexibility and performance when you need it.
Specifications:
Mass range: 2 to 1100 U with Unit Mass Resolution
Detectors: Triple Off-Axis Thermo Scientific DynaMax XR with Electronic Dynamic Range > 109
Mass Filter: Dual-Stage Mass Filter with Off-Axis Ion Guide Pre-Filter for Noise Reduction
Modes: Electron Impact Ionization (EI), with Full Scan (FS), SIM, and FS/SIM, Simultaneous Within The Same Injection, Chemical Ionization (CI) with Positive (PCI) and Negative (NCI) Ion Chemical Ionization, Interchangeable Without Breaking The Vacuu
SRM Transitions Up to 800 SRM Transitions/s
Exactive/Q Exactive GC Orbitrap System
Bring the power of the first-ever combination of high-resolution gas chromatography (GC) and high-resolution/accurate-mass (HRAM) Orbitrap mass spectrometry to your laboratory. The Thermo Scientific™ Q Exactive™ GC Orbitrap™ GC-MS/MS system provides comprehensive characterization of samples in a single analysis for the highest confidence in compound discovery, identification, and quantitation. This system offers the quantitative power of a GC triple quadrupole MS combined with the high precision, full-scan HRAM capabilities only available in combination with Thermo Scientific™ Orbitrap™ technology.
Performance benefits include:
Resolving power of up to 100,000 (FWHM) at m/z 272
Routine sub ppm mass accuracy
< 6 fg OFN Instrument Detection Limit
EI/CI Thermo Scientific™ Extractabrite™ ion source removable under vacuum through vacuum interlock
Vent-free column exchange with source plug
Advanced Quadrupole technology (AQT) for superior precursor isolation
Variable electron voltage (VeV) technology for softer EI
High sensitivity MS/MS experiments with Higher-Energy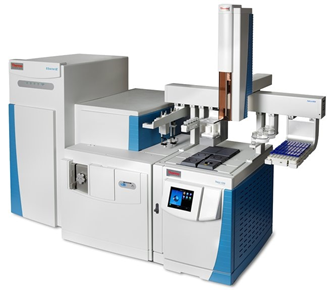 Exactive/Q Exactive GC Orbitrap System