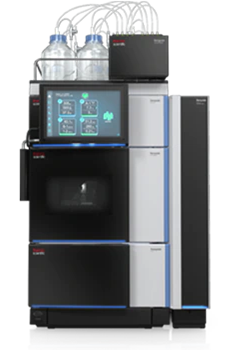 Vanquish Duo UHPLC System
Use the Thermo Scientific™ Vanquish™ Duo UHPLC Systems to support four workflows (Dual LC, Tandem LC or LC-MS, Dual LC-MS and Inverse Gradient) by combining two flow paths in one integrated UHPLC solution. These workflows improve your productivity by saving time, reducing cost per sample, increasing capacity without added bench, and using your resources more efficiently. Vanquish Duo UHPLC Systems expand the benefits of the Vanquish platform without compromising performance, robustness, or ease-of-use.
Four supported workflows. Two flow paths. One integrated system.
Increase your sample throughput
Free up valuable bench space
Enhance qualitative and quantitative sample knowledge
Reduce your cost per sample
Streamline your workflow using intelligent software tools
Vanquish Horizon UHPLC System
Conceived for the uniquely efficient 1.5µm solid core particle Thermo Scientific™ Accucore™ Vanquish™ C18 UHPLC column, this fully integrated and biocompatible system features high sample capacity for high-throughput workflows, industry-leading pumping performance, amazingly high S/N and linearity, two-mode thermostatting, active preheating, and more in a system that's driven by the gold-standard CDS software.
The system offers:
Up to 1517 bar of pump pressure and flow rates up to 5mL/min
Better Separations- Separate more peaks than ever before. More advanced technologies for critical separations.
More Results-Improves analysis speed, increases sample capacity, and improved robustness
Vanquish Flex UHPLC System
Obtain new benchmarks in accuracy, precision and sensitivity with the Thermo Scientific™ Vanquish™ Flex UHPLC systems. Providing biocompatibility with a state-of-the-art quaternary or binary high-pressure solvent blending, these ultra-high performance liquid chromatography systems share all Vanquish values, such as a design focused on uptime, robustness and reliability. Multiple detection options give you the performance and flexibility you need. These system are ideal for method development or high-throughput analyses and can be seamlessly coupled to a mass spectrometer (MS).
The System offers:
Up to 1034 bar of pump pressure and flow rates up to 8mL/min.
4 solvent channels for quaternary solvent mixing
Intelligent sample pre-compression for excellent injections up to 100 µL in 0.01 µL increments.
Versatile detection options including DAD, CAD and FLD.